We have been busy working on new features at Autoattend. All US phone numbers, and soon other countries, will now have SMS functionality. You can send and receive sms using the phone numbers you own at Autoattend.Right from the dashboard, you now can send a SMS . The maximum character limit for a SMS is 160. So messages greater than 160 characters will be split and sent.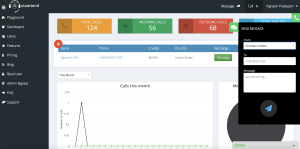 Incoming SMS to the phone numbers have an added feature. You can configure the incoming messages to be forwarded to another phone number, say your mobile.  This will be useful to get instantly notified. This setting is under Advanced Settings > Forward incoming sms to
All the SMS can be viewed and exported from SMS logs section. The status of each sms can be seen here. There can be cases when a sms status can be 'failed'. It implies that either the receiver's number does not exist or the receiver might have enabled DND for incoming SMS. The charges for the incoming and outgoing messages can be viewed in the pricing page.
Number masking system is another new feature that has been introduced recently. It is a simple feature where the caller id of the IVR can be hidden during transfer of calls. This can be a powerful feature when you want to setup a platform where the customer and the vendor shouldn't know each other's phone numbers. This setting is under Advanced settings > Caller id .
Direct forwarding list was another often requested feature from our customers. This feature enables the IVR owner to connect certain callers, directly to a preconfigured phone number without them going into the IVR menu. These callers' phone numbers have to be configured in Advanced Settings > Direct forwarding list . 

In the above configuration, whenever the caller +12666966890 configured in the list ,calls the IVR phone number , he will be transferred to +12053901762.
All the above features will be available for all the plans in Autoattend.